7 min read
Which Social Media Platform is Best For Your Business?
Tanya Hidderley : Jan 30, 2023 12:30:00 PM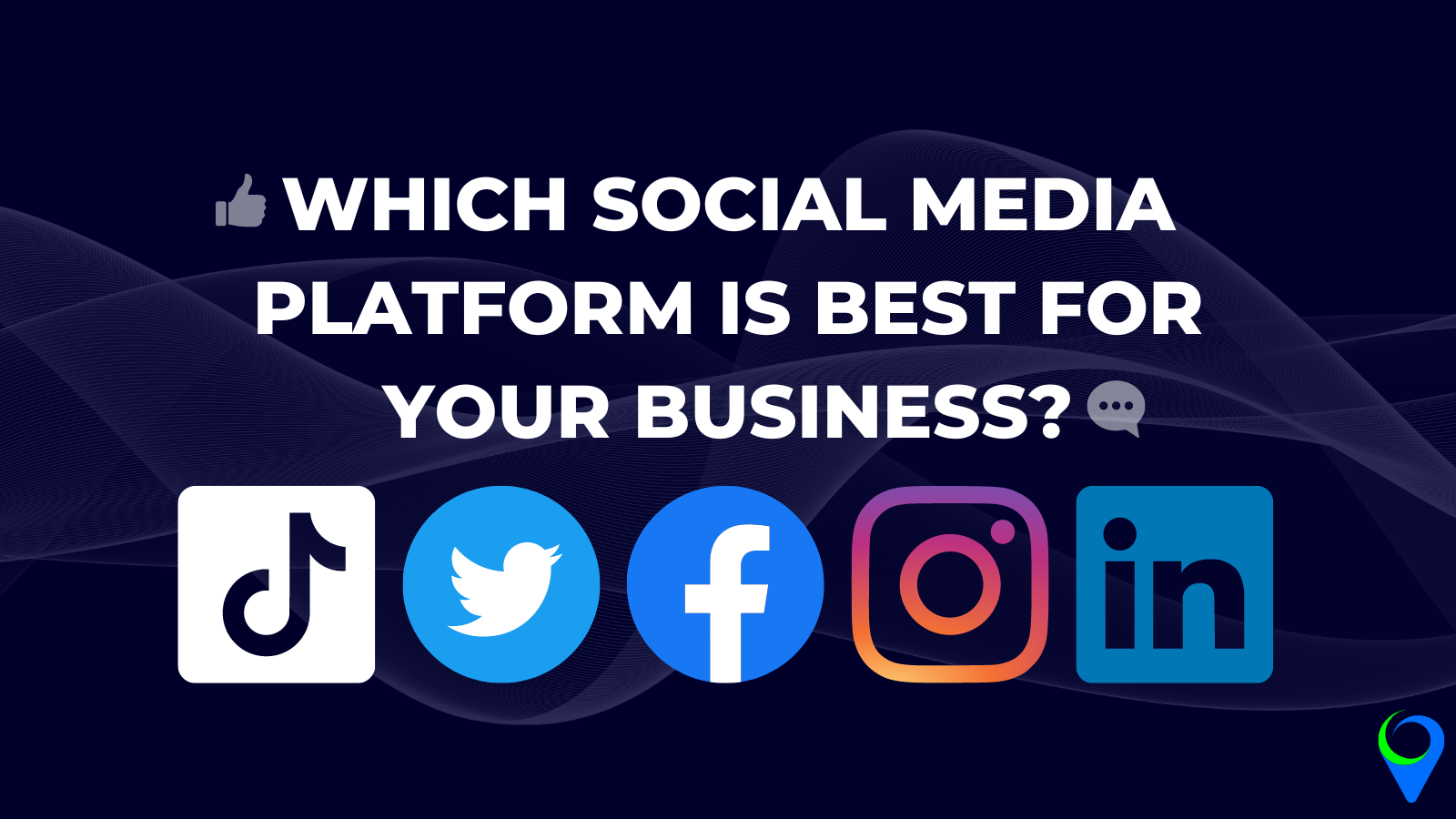 Guide contents
Why is social media important for your business?
Which platform should you use?
Need help and support with social media?
What is social media?
Social media refers to websites and applications that enable users to create and share content or participate in social media marketing. Social media is a relatively new phenomenon in the grand scheme of things. The first social networks emerged early in the twenty-first century. Since then, social media has become a key part of most people's lives across the globe.
Why is social media important for your business?
Social media allows businesses to connect and engage with potential customers, reach a wider audience and keep updated with industry trends.
Nala - the office trip hazard! Dogs always make for popular social media content but try not to overdo it. Otherwise, you may end up reaching the wrong type of audience unless, of course, you are a vet/dog show 😊
Facebook:
Facebook is owned by Meta (the parent company, which was previously called Facebook). Meta also owns Instagram, WhatsApp, and Messenger.
According to Statista, Facebook is the most popular platform worldwide, with roughly 2.96 billion active monthly users. Facebook's highest usage is amongst those aged between 26 and 35.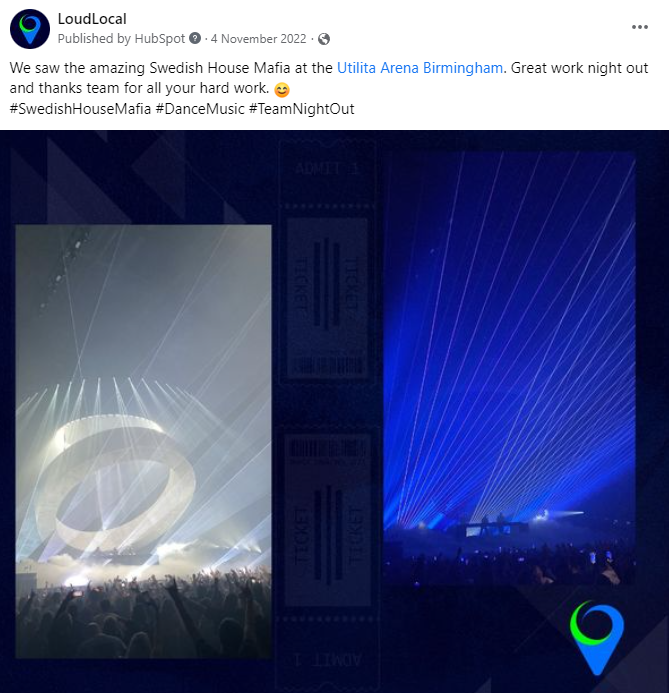 Above is an example of one of our Facebook posts. This is a perfect way to show that not all of your posts need to be serious, have fun with it at the same time!
What are the benefits and challenges of using Facebook for your business?
Benefits:

Advanced targeting tools

- Which help you reach potential customers who may be receptive to your brand

Monitor and improve through insights

- Use the 'insights' feature to understand what works for your business and what doesn't.

Challenges:

Negative feedback

- Facebook gives users the facility to "react" to posts, one of these actions is the 😡 emoji - this can be an issue with ad campaigns as some users may negatively react to seeing ads in their feed.

Brands need to pay to reach people

- The days of organic (unpaid) reach are gone, and Facebook should be approached more like an advertising network if you are a small brand.

Time and resources

- Creating and maintaining a Facebook page require a lot of time and investment.

A staff member may need to spend time creating and boosting content for the page.
Facebook is one of the largest social media platforms globally, meaning that it's perfect for brand awareness, targeted advertising, customer service, feedback, and more. However, whoever manages your page may need training, so they have the skills to create content and positively represent your business.
Like Instagram, if you are a business, you will also need a budget for Facebook, as you'll most likely need to invest in paid advertising to reach people.

Instagram:
According to Statista, Instagram has roughly 1.2 billion users worldwide. As of April 2022, Instagram's audiences were aged between 25 and 34.

Above is an example of one of our Instagram posts. It was Halloween at the time, which is great because it allows businesses to have fun and create posts that fit.
What are the benefits and challenges of using Instagram for your business?
Benefits:
Insights

- Instagram uses Insights as well as Facebook. This is great for several reasons, one being that you can understand what works for your business and what doesn't.

Able to boost posts

(pay to reach people) across Instagram, Facebook and Messenger simultaneously.
Challenges:
When to post

- Instagram's algorithms prefer fresh content, which is why it is crucial to target the correct audience at the best time. Look at what content you post. If you're a florist, posting after hours in the evening may not be as effective as posting in the morning or early afternoon.

Writing captions - Many people don't see why they need captions and skip this step entirely. Although it can be challenging to create captivating and compelling captions, it is necessary. This is because including captions can give you a boost in engagement.
Instagram is perfect for building customer relationships. Modern consumers demand much attention; it's best to engage with them by creating quality content, answering comments, and answering appropriate direct messages. Instagram is also great for reaching new audiences; so many people use Instagram daily, and it's easy to reach your target through paid advertising, hashtags, and engagement. However, Instagram can be difficult because you may need to know which hashtags to use. It may seem like you should stay away from famous hashtags, such as #fitness or #lifestyle; it's best to focus on specialised groups rather than mainstream because, although they receive fewer posts, they tend to have a more loyal following.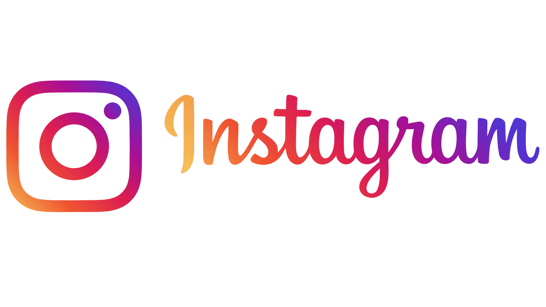 Twitter:
Twitter holds up to 237.8 million daily users worldwide, according to Statista, with Twitter's primary ages ranging between 25 and 34 years.
Elon Musk recently acquired Twitter and made sweeping changes to the platform; the advertising changes particularly impacted brands. Many top brands stopped advertising on the platform.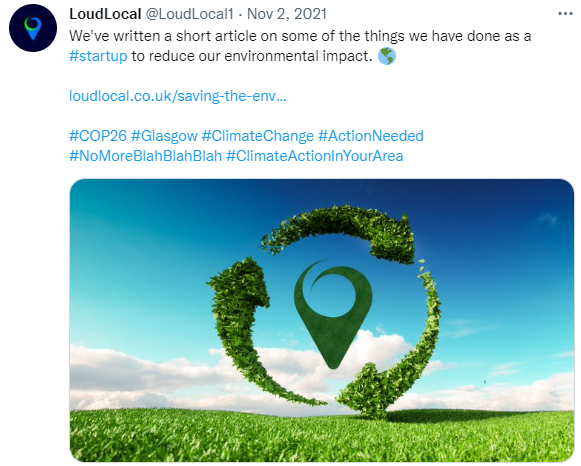 Above is an example of something we have posted on Twitter. We addressed a serious topic whilst linking it with our business and showing how we are as eco-friendly as possible.
What are the benefits and challenges of using Twitter for your business?
Benefits:
Time-saving

- You can schedule a tweet which is ideal if you don't have the time in your day to stop and post on Twitter.

Feedback

- Twitter can be great for gathering feedback from customers.

Easy to communicate

- Customers can easily use Twitter to ask a brand questions about their products or services. Doing this also gives the business a positive light.
Challenges:
Negative feedback

- Twitter can be great for feedback; however, people may make rude comments targeted at your business. Responding to these comments isn't always necessary, but when you do, dealing with the comments well can have a positive outcome on your reputation.

Spam

- Twitter has many spam accounts using its platform, meaning that you need to be cautious of that.

Only click on links from users you know, even if they claim to offer 'incredible business opportunities'.
Twitter is fantastic for following trending topics. This benefits businesses because they can find an interesting topic that fits their brand. Therefore, creating content for the platform. Twitter is also great for getting information to your target audience and saving time by creating and scheduling a good tweet. However, Twitter does limit users with a post limit of 140 characters, meaning you won't be able to go into much detail, and the limit also includes links. Twitter also has something called follower limitations. This is where each individual can only follow up to 2000 accounts; this causes businesses to be left out of their target audience if individuals have already reached their limit.

LinkedIn:
According to Statista, LinkedIn is the leading network used by prospective employees. The global number of users is expected to increase between 2022 and 2028 by in total of 167.7 million users. Nearly 60 percent of LinkedIn users worldwide are between the ages of 25 and 34.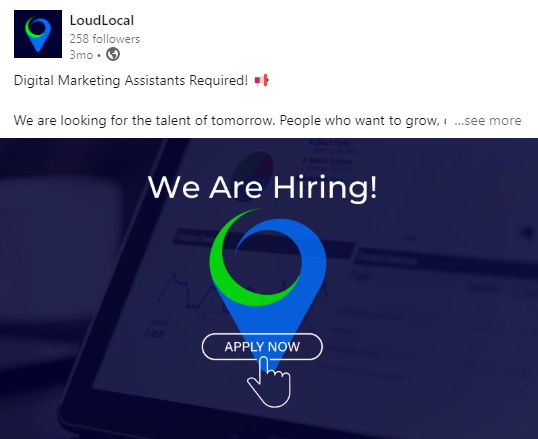 Above is an example of a post we put out on LinkedIn. Due to LinkedIn being a professional environment, it's perfect when looking for or advertising jobs.
What are the benefits and challenges of using LinkedIn for your business?
Benefits:

Professional environment

- most users are professionals or on their way to becoming professionals. As said below, all these people share the same goals, which benefits businesses because they can take a more direct approach.

Research

- LinkedIn is perfect for researching competitors and your target audience.
Challenges:
Potential spam

-

People receive a lot of fake messages, as well as friend and connection requests from fake accounts. Although many chose to ignore this, some say it results in them losing trust in the platform. Hopefully, LinkedIn soon recognises this issue and deals with it appropriately.

You need to be an active user

- As stated below, time and effort must go into your page for you to start seeing results. Depending on what you do, this may take weeks or even months to start gaining recognition.
The great thing about LinkedIn is that it's less personal and more of a professional environment. Most users have the same goals, make connections, and network, which is great because you can take a direct approach. However, because it is a more professional environment, you must constantly be active and set time aside daily to be active on the platform. It's very time-consuming and unlike other platforms, checking on it now and then doesn't work. For example, it's like getting a puppy. You can't just leave it and expect it to do well. You need to give it attention, time, and effort to help it grow.

TikTok:
TikTok holds 656 million users globally, according to Statista, with the majority of people between the ages of 18 and 24.
TikTok started its life as Musical.ly, changing to TikTok in August 2018. Many people denied the transition, but as time went on, more and more people started to form a liking for the app and incorporated it into their daily lives.
Above you can see an example of one of our posts. We took a popular trend and made something that other people would relate to. TikTok is great for having fun whilst building a personality so have fun with it!
What are the benefits and challenges of using TikTok for your business?
Benefits:
Creativity

- TikTok is a unique platform that businesses use to show their personality. There really are no limits when it comes to being creative on TikTok.

Easy production

- TikTok is a more 'laidback' platform, so you don't need lots of equipment to post content. You can just take out your phone and press record. The app is known for its raw, in-the-moment emotions, meaning that your business can show its personality
Challenges:

You can ruin your reputation

- This can happen through partnering with the wrong influencers. Although you may gain a lot of attention, if the influencer is controversial, it can backfire heavily on your brand.

You may get lost in the crowd

- There are so many videos being posted every day. Your content must be creative and engaging to catch people's attention.
Your business can gain better brand awareness. TikTok thrives by being fast-paced, which is what the majority of modern consumers prefer. This means that brands that post content on TikTok gain more attention and appear in more unique algorithms. Another great aspect is that TikTok is perfect for making your brand more personal, as the majority use the app for more fun and creative content rather than serious and professional content. However, the audience is young, meaning that if your brand is looking for a more mature audience, it may not be the best audience.

If you want to know more about TikTok for your business, check out this blog.
Which platform should you use?
There is no right or wrong answer regarding what you use. It all depends on your preferred platforms, your business, and whom you want to reach. However, do not just stick to one platform. Have a few different socials. If the majority of your potential customers are on one platform, focus more on that platform and put more of your effort into it whilst also putting an equal amount of effort into all your other social media.
Ask yourself these questions:
What is my target demographic?

What platforms do my potential customers use?

What platforms do my competitors use?
Get an idea of what content fits where before making your final decision. The best social media site would be one that you can leverage for your business's specific goals.

Thank you for reading

.

Need help and support with social media? Let us know. We're happy to help! 🙂
9 min read
Michael Wimbury :

Jul 26, 2022 1:06:37 PM
The Digital Channels In our ever-evolving digital landscape, businesses must adapt and branch out into online channels to stay relevant in their...
Read More