Sport & Leisure Industry
Case Study: Oakridge Golf Club
"I feel like they are part of the team because they are so invested in making my business a success" ~ Jodie
SERVICES:
Website Design
SEO Optimisation
Content Creation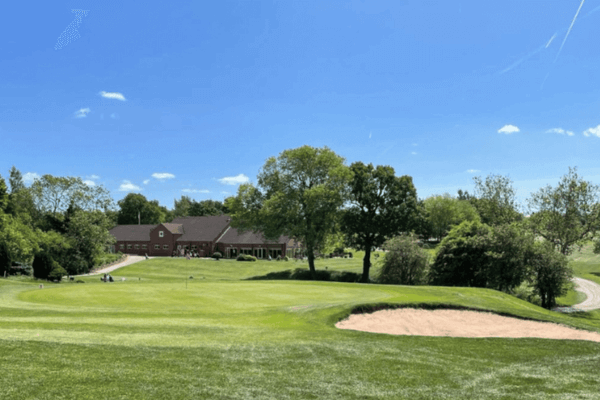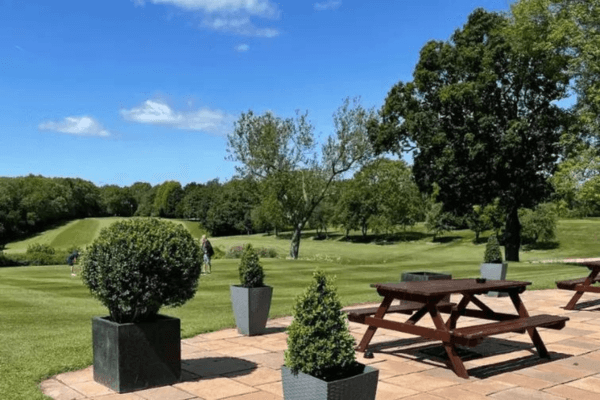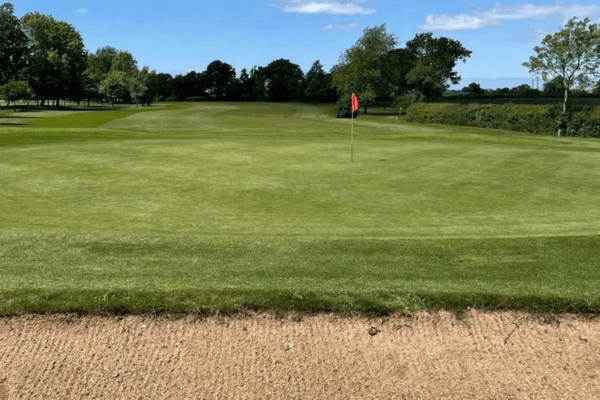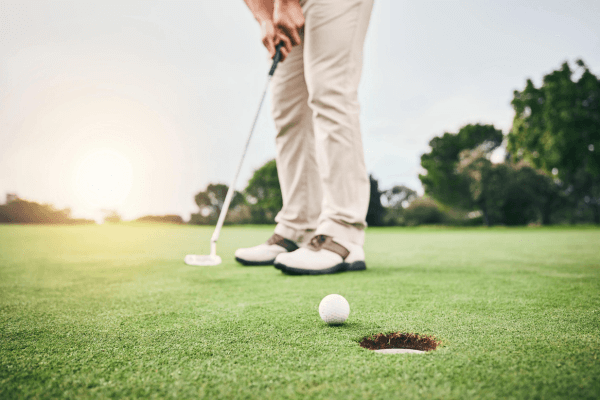 The Brief
Oakridge golf club was established 30 years ago, and boasts an 18-hole course set in rural Warwickshire. Not only does Oakridge offer stunning grounds for golfers of all abilities but they also host a range of functions including weddings, celebrations and corporate events.
Oakridge initially got in contact with us wanting to find out more about our services and how we could potentially support them across a range of digital marketing activities. After speaking with them, it was clear that the areas in need of the most work were local SEO, social media and website support. Oakridge had previously worked with agencies providing social media support, however due to changes in circumstance they were no longer able to provide the service Oakridge needed, leaving them in need of someone to fulfil this role.
The Covid pandemic hit Oakridge and the rest of their industry hard, and they knew how important digital marketing was in order to get them back up to pre-pandemic levels and continue to grow.
Objectives
- Optimise Website
- Add Booking Feature onto Website
- Boost Local SEO
- Content Creation
PHASE 1
Improving Site Speed
When we first started working with Oakridge, we ran a website audit to go through the technical issues on the site which we were able to fix within the first month. A significant issue we noticed on the site was the slow load speed, it didn't take long to find out the cause was multiple performance plugins on the site battling against each other resulting in slowing the website down. To solve this we went through and removed all the unnecessary plugins leaving us with one performance plugin which we optimised by adjusting the plugin settings, allowing the site to be much quicker.
This report shows how fast Oakridge's home page is performing taking into account loading time, interactivity, visual stability and how well it's built for optimal performance.
When we first started working with Oakridge they were achieving an E grade, showing their site was extremely slow. This graph shows the improvements that have been made since we started working with Oakridge where they are now achieving a C grade and and significant decrease in page load times.
The grade here reflects the overall webpage experience considering both, the back-end structure of the site, as well as, the actual performance experienced by the user.
Improving the score improves the website's overall performance. This results in better Performance Scores and improve the user experience/user interface which helps to boost SEO performance and search rankings.
Another factor slowing the site down was their homepage banner. This was originally a carousel of images but due to this being above the fold it meant it couldn't be lazy loaded, contributing to the slow load times. To overcome this we redesigned their homepage banner by changing it into three separate images, which saw a dramatic improvement on page load speed.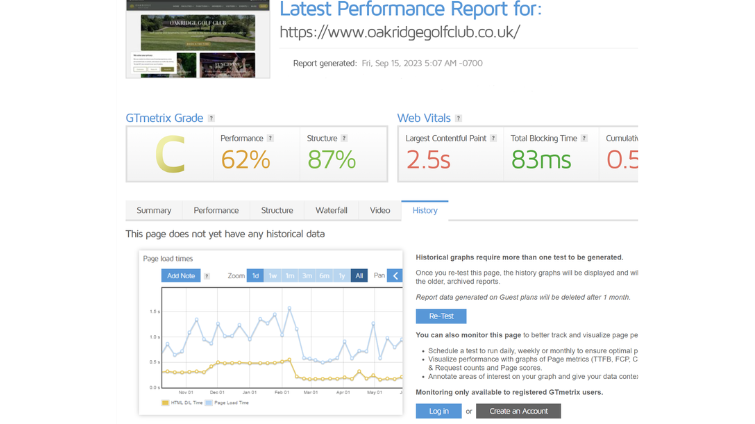 PHASE 2
Bookings System
Oakridge also wanted to be able to sell tickets for their events directly via their site instead of through third parties such as Fienta which they used previously. By selling them on their site means people are engaging with their content which in turn would help boost SEO and increase rankings. To do this we downloaded an events plugin and created a staging version of the site so we could test it before it went live. However when we downloaded the plugin, it became clear it didn't work correctly with their website theme (Divi), to overcome this we had to create a separate staging site so we could go through the entire site and find the exact cause of the issue. In doing this we found the registration page wasn't formatted correctly, we got in touch with the support team from the events plugin who said it was a bug they were working on fixing. Whilst waiting for this bug to be fixed we went into the staging site and background of Divi, deciding the best way was to remove the header and footer from the page using custom CSS which helped to fix the layout issues. Once this issue was resolved we uploaded all the events onto the website and configured WooCommerce payments so users could order their tickets online.
Once the booking system was in place we then added a section on the home page to advertise the events page, this not only improves user experience by making it easy to navigate but the internal linking would also help improve SEO.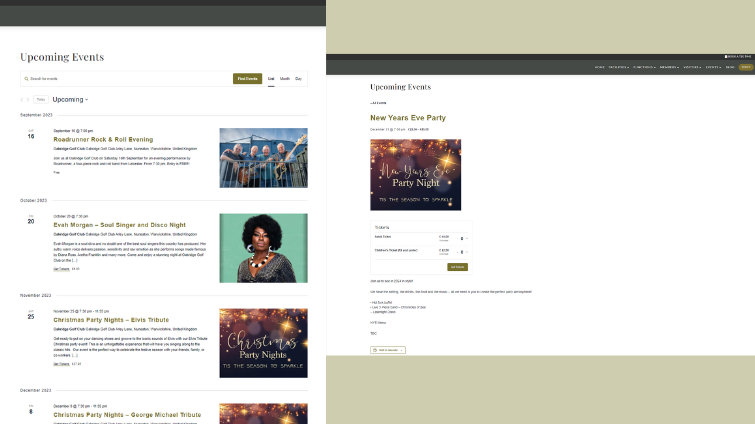 PHASE 3
Incorporating Reviews
We also added a review section to the homepage with a link for people to directly leave a review on google. We unindexed all the pages from the members section as we were finding a lot of the pages you accessed from the main site were inaccessible for non members. We set up listing management, used semrush listing management tool to publish all their business details across different online directories to improve their local presence and their SEO.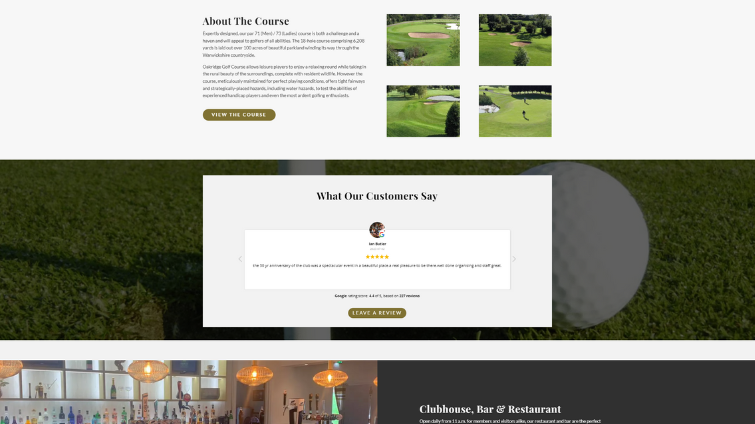 PHASE 4
Content Creation
We discussed writing blog posts for them, initially this was to target specific keywords relating to corporate events at their venue. Overtime we have branched out into writing golf related blogs to target more researched key words.
The content plan involves regularly posting relevant content on their pages and boosting to ensure it gets seen by a wide but relevant audience. Content can include anything from posting about blog posts and memberships to events being held at Oakridge.
We also started running dark ads for Oakridge specifically targeting their memberships, since doing this they have noticed a significant increase in sign ups and bookings.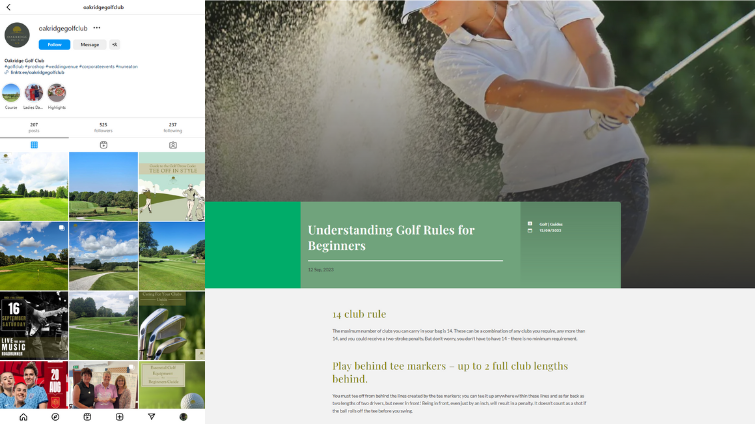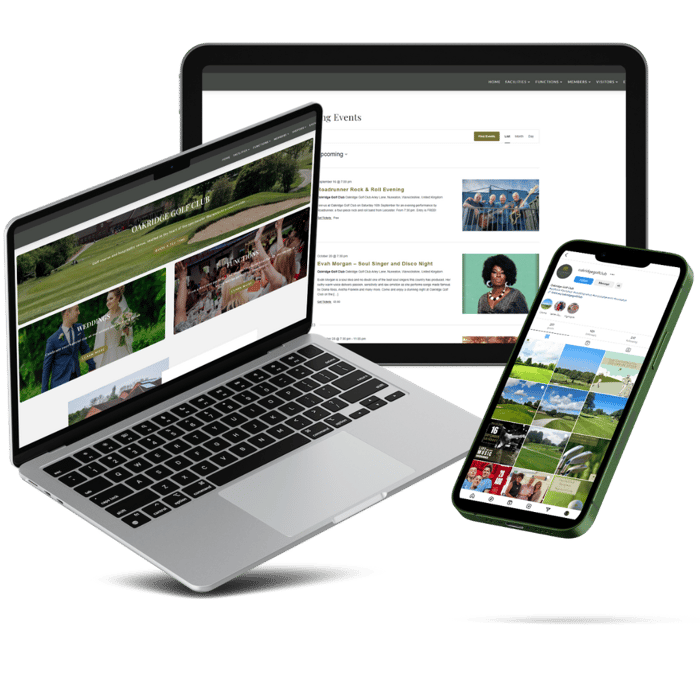 0

%

Increase in Instagram Reach
0

%

Increase in Facebook Reach
0

%

Increase in Google Search Rankings
Oakridge are extremely happy with the effects of our work from their website to social media and are really seeing the benefits of working with us.
From the start we have continued to build a great relationship with Oakridge and ensured we invested the time to speak with them to understand the best way to move forward with them, taking into account their previous experience. After hearing the challenges they had faced, we went above and beyond by helping and guiding them with their website development.
We still continue to make updates to their website and post regular content across their social media which is having a great impact on their memberships and events.